Great information on goddesses, gods and ancient Greek culture: both mythological and historical
· Research your gods and goddesses here:

Questia School offers the premiere online library and research tools for high schools
Search more than 70,000 actual books with cover-to-cover access.
Unique research tutorials provide easy-to-follow instruction on how to research and write papers
Ebrary gives you access to over 80,000 full-text books; perfect for research projects!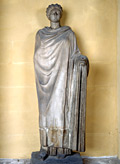 Loading...